Thank you so much. The meal was amazing and everyone loved it. You really outdid yourself. I will be using The Market for all my future meetings. We will talk soon. Thanks for as expected - an awesome meal.
~ Stephen - 12/19/16
Our old breakfast place started to slack in certain areas. Food and service... you know the important stuff when you have a restaurant. One of the guys suggested this place. We've been there ever since. The people here are great and the food is awesome!! Always have good specials going too. Check them out, I promise you won't be disappointed.
~ Michael S. - 01/18/17
Just tried The Market Restaurant for the first time for breakfast today. I would have to say it was absolutely the best breakfast I have ever had!! Top notch service...I will absolutely be back!!
~ Anthony L. - 11/07/16
I LOVE this place!!! The food is AMAZING and the staff is very friendly and helpful!
~ Stacy M. - 08/23/16
I just wanted to say, first and foremost, you made us look like superstars, that's a fact. The accolades were overwhelming and pouring in, not even an hour after the function. I was advised that the delivery went smoothly despite the need to make you wait, which I am advised you graciously did (apologies for that). I literally received dozens of emails about how wonderful the food was. I sincerely thank you for your tremendous service!! I hope it brings you some new business. Our colleagues mentioned that were sure to take your business cards. Be well and again, many Thanks!!
~ Debbie - 10/19/16
Food was served hot. delivery was on time and service was wonderful. always an office favorite.
~ Mimi W. ~ 10/13/16
In addition to having excellent food, the Market Catering's customer service was first rate. They went out of their way to accommodate a last minute time change so I could get the food to my customer on time. Highly recommend!
~ Mike ~ 9/8/16
The customers I had to provide food for seemed very pleased with this breakfast option! Will definitely use this caterer again!
~ Danielle - 8/19/16
"Wow! Amazing job on the food for our business lunch today. Everything was absolutely delicious. The food was piping hot and ready to go. Portions were perfect. You have definitely earned our business and you will be hearing from us again. Thank you so much for making our event perfect!"
~ Shelley K. in Hartford, CT
"Excellent food! Delivery was nice and early, food was hot, presentation was excellent. Delivery driver was courteous and very helpful. Will be ordering from here again for sure."
~ Maria in Windsor, CT
"The food was delicious and the delivery was right on time!"
~ CJ in Windsor Locks, CT
"Excellent service. The selection was perfect. Love that they had an option that included a variety of items."
~ Angela in Middletown, CT
"The baked goods for breakfast were delicious! Highly recommend."
~ Kristen in Hartford, CT
"Thanks to The Market Restaurant here in Hartford for feeding the volunteers of the Crossfit Eastern Regional at the XL Center . Brian is the owner and his spot is in the Farmers Market that his dad took him to as a kid. Pretty awesome meeting fellow chefs that give a darn about good, real food."
~ Pete Servold ~ Owner of Petes Paleo ~ www.petespaleo.com
Delivery was early (on time in my book) and presentation was outta site! will definitely order again.
~ Brandon in South Windsor, CT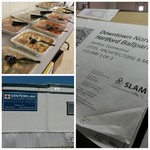 I want to thank The Market Restaurant for the amazing spread you provided our construction meeting today; everyone was raving about how good the food was, and the cookies are to die for. I'm so glad we saw your restaurant on Hartford.com. Kudos to your chef(s)."
~ Malou ~ Centerplan Construction Company LLC
On time and office enjoyed the warm meal.
~ Bethany in Glastonbury, CT
Absolutely delicious food, good service, great prices, excellent portions. No complaints!
~ Cody H
Breakfast was amazing. Loved the fresh fruit and the French toast!
~ Lisa V
More than words can say, on behalf of ConnOTA, we thank you for the wonderful catered breakfast you provided for our conference this past Saturday. The feedback from attendees was so positive! Thanks again, ConnOTA Board
~ ConnOTA Board
Our lunch was the bomb!!!!! Chicken could be cut with a fork!! Everyone enjoyed it, so we will put your card in a safe place and hopefully, we will be calling you again!!
~ Joan DeMarco
Great food. Attractive set-up. Thank you for your service today. ConnOTA appreciates it!
~ Nikki C
"Just a short thank you for the wonderful catering job you did for the recent Wine Competition. The continental breakfast was perfect with those piping hot Danish and assorted muffins. The luncheon sandwiches hit the spot as we really didn't have much time to eat. I look forward to another Holiday luncheon like last year that was very well received by all of our 125 employees. You are truly a great addition to the market."
~ Ken Milio, M & M Produce
Without a doubt, the food from Market Restaurant was amazing; the friendly customer service I received made my choice the best ever for catering service. After my father had passed away it became difficult to concentrate, but Market Restaurant staff was courteous and did not overwhelm me. On the day of the event everything went smoothly and according to plan. The building we used for the day was beautifully decorated and perfectly prepared for my guests. Thank you, Market Restaurant!
~ Joan C.
"Thanks So much for the response.. I greatly appreciate it. Also, the classes went off without a hitch, and EVERYONE loved the food. I definitely "plug" you guys whenever I get the chance, and will continue to do so!"
~ Matt Douglas, Branch Manager, Transaxle
Thank you so much for the delicious lunch and the impeccable service. We so appreciate you being on time and setting up for us. You did such great work for us. I handed out three of your cards. Our guests were impressed
~ UConn Department of Public Policy
The Market Restaurant is the place to go. We have used the Market Restaurant several times over the years and it is always quality catering, great food, competitive prices and service that is outstanding !!! If you are looking for good food, great prices and quality service then the Market Restaurant is what your looking for.
~ Bill Lusardi